RedBarn Beefy Sticks Dog Treats, Braided Bully Sticks, Red Barn Steer Sticks Dog Chews
Ingredients bought from major suppliers and inspected by quality assurance staff before production, strict control specifications in the factories operating under certified Hazard Analysis and Critical Control Points program specifically designed for pet treats, a fully equipped quality control laboratory as well as a product development laboratory, - all this guarantees that choosing RedBarn bully sticks and steer sticks you buy the best chew for your dog that is healthy, safe and wholesome.

Red Barn Bully Sticks dog treats are not released for packaging in the factory until the quality department technicians have determined that the content of moisture is below the point at which bacterial growth is possible.

Lightly smoked natural beef pizzles made in the USA by RedBarn Premium Pet Products come in a few varieties: regular beefy sticks, braided bully sticks, steer sticks, bully springs.
Long lasting dog chews made of a bull penis, roasted in its natural juice.
"My 1 year old Boston Terrier loves chewing these bully sticks, they are completely digestible and last several days (which is pretty good when you have a Boston at home who can destroy most toys in under a minute!). I've tried other brands, but Redbarn Bully Sticks are the best by far!"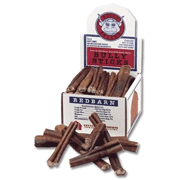 Dogs absolutely love lightly smoked flavor of these beef sticks, and 3 sticks braided together make chewing even more fun and provide most efficient teeth cleaning session.
"The second I bring them home, my dog goes crazy for them. These braided bullies are especially good for dogs teeth and gums. Besides they keep your dog entertained for quite a while!"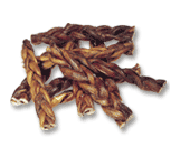 Healthful beef protein and delicious taste of the first-rate thick bully stick are far from being the only reasons why this dog treat is outstanding. It is also the ring shape that drives dogs wild with delight and thorough dental maintenance it provides owing to its form.
"These bully rings are terrific and my puppy loves them! They don't stain carpet, are digestible and just great!.."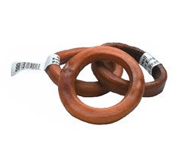 Natural steer stick is formed into a curly shape for challenging chewing. Delecious treat that dogs love not only to gnaw, but play with as well. Spiral shape helps clean also back teeth.
"My little shitzu poodle mix loves these bully springs. It is the best and lasts longer than most chews of this type."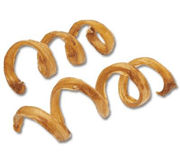 High protein snack made of beef pizzle. The greatly palatable chew contains only 6 calories per inch. Please take note that steer sticks in general and these Redbarn dog treats in particular are thinner than regular bully sticks. Therefore they are recommended for smaller breeds, light chewers and senior dogs.
"We have tried different dog chews trying to stay with natural for our two chihuahuas. I just can't keep them supplied with enough of these steer sticks! Thank you for making them!"