Most popular beef pizzle sticks dog chews that measure 6'' long
Nowadays more and more dog owners choose bully sticks as a preferable chew for their pets. It is not surprising, as bully sticks are easily digestible, contain a lot of protein and taurine, and are great for dog's dental health as well. Many dog trainers also use beef pizzles as a reward treat during training sessions. Below you can find most popular bully sticks in one of the most popular sizes - 6'' long.
Top quality bully sticks made in the USA from USDA sourced ingredients.
"I have 2 dachshunds who are wild about the bully sticks. They last for hours, clean their teeth, fulfills the need to chew and are nutrionaly better than rawhide. Merrick makes some of the better treats for dogs and I am more than willing to pay for it..."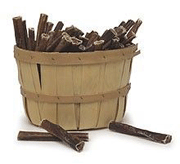 All natural beef pizzles under Best Bully Sticks USA brand come from free-range grass fed bulls, do not contain chemicals, hormones or any additives, and are truly made in USA. Medium size, low odor bully treats from this offer contain a mix of standard and thick pizzles, and suit best typical small and medium dogs.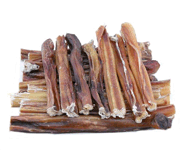 Dog chew made from dried penis of free range Brazilian cattle which diet is free from hormones and antibiotics.
"These bully sticks have been very good treats for our Corgi puppy. They satisfy her desire to chew, while not staining the carpet..."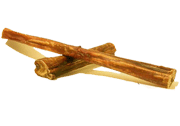 Unsurpassed dog chew for aggressive powerful chewers. Last for days and provide dogs with added nutrients.
"I noticed a big difference in my dogs' teeth after giving them these thick bully sticks. They have also helped my newest dog with separation anxiety, as they take a long time to chew..."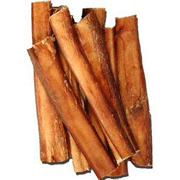 Three bully sticks are braided together to triple the long lasting chewing pleasure! Made from free-ranging Brazilian cattle that graze on green fields and are given no hormones, antibiotics or steroids.
"My dogs and every dog I know loves these braided bullies. Thanks for the great product!"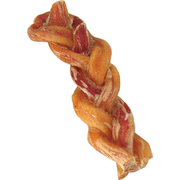 Because of the curly shape these steer sticks cause more friction in the mouth when chewed and therefore do great tooth cleaning job. Delicious treat rich in protein, natural toothbrush and toy - 3-in-1!
"My Cairn Terrier spends a couple of hours getting small softened portions of these bully springs yet only actually eats about 1 or 2 inches - the shape makes them easy for him to handle!.."