Bully Sticks dog treats: best safe natural dog chews
Bully sticks
are increasingly popular among dog owners who prefer
natural safe and healthy chews
for their pets. As pet lovers realize how enjoyable bully sticks are for their dogs, word of mouth spreads, and more and more dog owners incline to these tasty dog treats rich in protein and taurine, in spite of psychological barrier that some people occasionally have feeding bull privates to their beloved pets.
So let's dot the i's and cross the t's - what are
bully sticks made from?
A
bully stick
, or what it is also called,
a beef pizzle, beef stick, pizzle stick, steer stick,
is 100% bull penis. Bull penis is the only ingredient of bully sticks.
While processing, the bull's penis that is usually measures around 23-25 inches in length, is removed and cleaned. Manufactures of bully sticks hang the pizzles vertically to allow containing fluids to fully run out. Without these fluids the bully stick is odorless. At the next stage of processing bully sticks are stretched, twisted and then dried or/and smoked. The outcome is a 30-40 inches long hard brown stick which is then cut into pieces appropriate for dogs of all sizes. You can choose small bully sticks of 4'', large beef pizzles of 36'' and any length between.
Benefits of bully sticks for dogs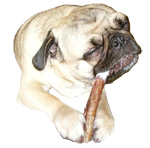 Bully sticks dog chews are not only high palatable treats, but they also provide
a lot of benefits for dogs.
Since bully pizzles are pure beef, they are 100% easily digestible. Natural organic bully sticks offered on
Bully Sticks for Dogs
website do not contain any additives, chemicals, preservatives, antibiotics, hormones or steroids. They are made from cattle that graze on the green fields of Brazil and drink from fresh, clean streams. Production under USDA strict specifications ensures the bully sticks are healthy and not contaminated.
When dogs chew on bully sticks, they become wet and chewy and provide a great natural way to clean teeth and massage gums keeping them strong. Bully stick is a long-lasting treat that satifies dogs desire to chew and keeps them busy and occupied.
Bully sticks are high source of quality protein (not less than 80% of crude protein) and taurine, an amino acid that acts as a catalyst facilitating the flow of vital elements to and from cells and therefore is essential in preventing health disorders.