Bone Buddies natural bully stix
Bone Buddies bull penis dog treats are one of the best "chewies" according to numerous customers reviews. These bully sticks are of superior quality and made from USDA inspected cattle. Great taste and freshness that dogs absolutely love in combination with odorless nature and the fact they last quite a long while make these bully sticks an extremely popular product in the market of bully chews.
Just perfect treat for both puppies and adult dogs to develop strong jaws and teeth and maintain dental health.
"My cockapoo loves these beef pizzles. They do not have the heavy smell or cause stains on carpet. I would recommend them to any dog owner..."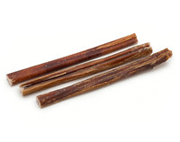 Lightly smoked beefy sticks are braided together and dried for proper texture. These crunchy bullies provide added nutrients and keep dogs busy for hours.
"My dog not only likes these braided bullies, but they are also good for her teeth and gums. The other big benefit is that they keep your pet entertained for quite a while..."