Bully Sticks for Medium and Large Dogs Online - 12'' Long
Market of
bully sticks for dogs
in the USA has been steadily growing over the past few years. Measured in commercial terms, thousands and thousands of kilometres of the dog treat made of bull's privates have been sold. Tens of local and online stores offer
beef pizzles
of all kinds and sizes vying with each other. But as a competent dog owner aspiring to provide the best natural healthy treat for your pet and a common consumer looking for the best investment of your money in the global financial crisis time, you need to make a proper evaluation before the purchase. How to make the right choice?
Based on number of
criteria for overall estimation of bully sticks
such as
the source of beef that bully pizzles are made of, manufacturing plant, and price
,
Bully Sticks for Dogs
team is proud to offer dog lovers the highest quality beef stick products at most attractive value. Bulk and economical packs of the popular bully chews make shopping with us advantageous and rate of bully sticks really cheap.
12 inch dog bully sticks
presented at this section suit medium and large dogs best. For other sizes we encourage you to visit respective pages of our website.
Who said that premium quality natural bully sticks can't be cheap? Shop smart and buy beefy sticks for your dog in bulk! Great taste and freshness of every pizzle chew is guaranteed. These bully sticks are made from pizzles of free range bulls.
"Our dog has 3 requirements daily: his walk, ball time and a bully stick. The bully stick will actually calm him down. It's like his little cocktail at the end of the day..."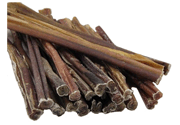 12'' Length
50 Bully Sticks Pack
Regular price: $121.99
Sale Price: $96.99
You Save: 20%
Free shipping

Each of these extra thick pizzle sticks is hand measured for consistency and thickness. They are over 3 quarters of an inch in diameter and intended for mega chewers that demolish ordinary treats at full tilt.
"It is an awesome product and my vet is always telling me that I do a fantastic job brushing their teeth - they look great! I honestly do not brush their teeth - the bully sticks do a great job of that.."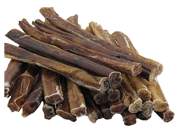 100% digestible all-natural dog treats made from dried penis of free range cattle that pasture on green meadows and drink clean water from sparkling springs of South America.
"My dog loves these bully sticks! They have a very low odor so it is not offensive. I have tried many other brands and I like these the best..."
Chemical-free long-lasting braided bullies from Brazilian grass-fed beef. For loving dog owners who want the highest quality organic chew for their pets.
"Very satisfying dog chew. Seems to enhance self-esteem and self-confidence. My makes a great game of how it is consumed, when and where. "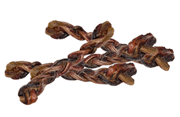 Redbarn steer sticks are beef protein dental dog chews made in USA with no additives or preservatives. These sticks are hard, but when dog starts chewing they get moistened with the saliva and work as an efficient toothbrush cleaning teeth and exercising gums.
"This is the best dog chew I have ever bought! I am so glad I found out about these steer sticks, because my dog LOVES them..."