BonesGalore free range beef pizzle dog chews
If your dog is an aggressive and power chewer and eats up regular beef pizzles in a surprisingly short time,
Bone Galore free range bully sticks
are right choice for your pet.
Extra thick and braided bully chews
from Bones Galore last really long time and provide natural way to clean dogs teeth and freshen breath.
Bones Galore bully sticks
are made from free range Brazilian "green" cattle that graze on lush meadows and drink from fresh springs. Their diet is free from hormones, antibiotics and steroids. Bone Galores bully sticks do not contain additives, preservatives or artificial flavors. This high quality, all-natural, healthy organic product meets strict USDA standards.
We haven't heard of a dog that doesn't like Bones Galore bullies, but we do know dog owners that find smell of these beef pizzles revolting. If you are too susceptible to odor of bully sticks, we would recommend you to consider another brand, for example,
Bone Buddies
. Otherwise these great dog treats may be worth that small inconvenience...
Ideal beef pizzle chews for aggressive chewers. Keep even busy dogs out of trouble for a long time! Natural healthy dog treat.
"Not all bully sticks are the same, and the Bones Galore's are one of the best. They are long lasting and I give them to my dogs when they have too much energy and are driving us crazy. Thumbs up!"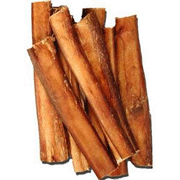 Three bully sticks braided together make these bully chews, that naturally will last longer than single beef pizzle. Plenty of chewing enertainment guaranteed! These dog treats are 100% digestible and free of chemicals.
"This is a great product not only as a treat but to keep dogs teeth clean. I give these bully sticks to my dog to help clean his teeth..."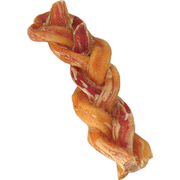 Natural organic bully sticks from free range Brazilian beef. Available in the size of 4'', 6'' and 12''.
"This beef stick kept a visiting puppy from chewing on my plants and footwear. My own dog loves to chew on these outside while I am working in the garden."