Natures's Variety bully sticks and braided beef stick twists
Highest quality ingredients from cattle raised in USA, superior dog treats produced at a USDA inspected and registered plant that is owned by families who have been focused on the meat processing business for the past 30 years, that is what Nature's Variety brand offers to pet lovers.

Processing of Nature's Variety bully sticks is developed in collaboration with Nebraska Food Service Center. It is a unique procedure of roasting bull penis at low temperatures to keep the final product fresh and full of nutrients. Giving your dog Nature's Variety roasted beef sticks and twisted bully sticks you give him not just a great chewing item, but complete his diet with additional quality protein, amino acids, vitamins, minerals, as well as a natural source of substantial for dog's health susbtances, such as glucosamine, chondroitin, collagen, and calcium.
Delecious natural wholesome treat, helps to keep teeth clean and strong. These pizzle sticks are great for small dogs.
"I have a small dog, Bichon/Shihtzu mix and she really loves these bully bones! She has a small mouth but no problem chewing on them and they last long. I think they are a great deal!.."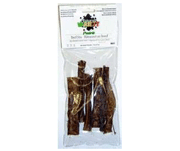 Three 12'' bully sticks braided together make this 9'' long twist. Extra thick, long lasting, natural, healthy, without preservatives, flavorings or colorings - just supreme dog chew.
"My 9-year old Bichons are very particular when it comes to their bully sticks. This brand is by far their favorite, and I have bought just about every brand on the market..."